---
Dear Donna,
I just want to take a moment and say thanks for your wonderful newsletters and the Crochet Village items. You always sound upbeat, perky and wonderful and you always manage to put a smile on my face when I read the latest addition. I feel like I am where you are when I read your words. Thanks so much and happy holidays to you and your family!
Blessings from your fan in Maryland!
Mary
---
Hi Donna,
Wanted to send you a photo of my flip flop afghan I just finished. It will look great in our beach cottage. I used Lily's Sugar n Cream cotton yarn and it worked up very nice.
Thanks for the fun pattern.
---
I wanted to thank you for designing such a cute pattern. My 12 year old daughter is in 4-H and loves to crochet. One of the categories in our fair entry book is wall hanging, so we are always looking for new patterns to use. Well this year we found your bunny door hanger on etsy and I purchased the pattern. It was more than I typically spend on patterns, but so cute. Well, she enjoyed making it and didn't have many questions following your pattern.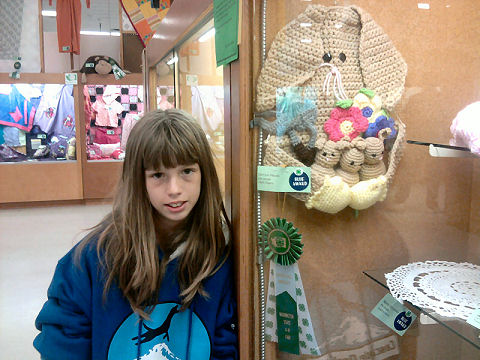 I thought I would share how well she did at the fair. They obviously judge on quality of craftmanship, however, to get a "special award ribbon" you need something that catches the judges eye also (hence our search for cute, novelty patterns) At our county fair, she got a blue ribbon as well as a big superintendent's choice ribbon.

She sent it up to the state fair and also got a blue there. It is even harder at state fair to get a special award, but she did. She was thrilled. I've attached a pic of her with the finished project at state fair. It was hard to photograph because of the glare from the display case.

Thanks again for designing such a cute pattern.

Heidi
---
received the patterns last night and already started on making a place mat. Thank you so much! Very clear instructions!
Marsha
---
Thanks so much for your prompt attention. It has been great buying from you. Not too many businesses care like you do. Donna
---
These slippers are some of the warmest slippers I have ever worn. They hug my foot perfectly, and the lace keeps them snug on my feet all evening long. I highly recommend the pattern to anyone! Juanita
---
Thanks so much, Donna. Your designs are adorable, & I'm really looking forward to crocheting them!
Linda
---
I just wanted you to know that I received the patterns in the mail today and I am thrilled with them!!!
Your patterns are so impressive and I love the fact that they use Red Heart and Caron yarn which are the yarns I use the most. You cannot find anything like these in the stores. Not even close. Are you planning on designing any more patterns? I hope so. I am looking forward to seeing more of your creations.
Thanks Again!
Sheri
---

I absolutely love your designs! I made several over the door scarecrows for myself and as gifts and am now working on "I Believe." People are amazed and the compliments keep coming - thanks to your designs!
Joanne
---
I ordered the pattern for your Halloween Purses last year. Actually I am a knitter and not much of a crocheter . But I was just taken by the purse patterns , so after receiving the pattern I promptly filed it away. I have a table at a fall sale every year and I was thinking what could I do differently this year, then I came across your pattern so I put aside my misgivings about crochet and tried your purses. And needless to say I just love them. I sent a picture of them to my daughter and she said they are so sweet that it makes her want to have kids( she is 27) so I have to keep making these!!! I may be a Grandma thanks to you! I am looking forward to making the Treat Bags.
I made lots of the adorable little Candy Corns for all the children of my co-workers. They LOVED them! They are so cute. I just love their little tennis shoes.
Susan
---
I really have enjoyed your patterns - very easy to read and work up, and always well received by the recipients of my gifts!! You are now in my bookmarked favorites and I look forward to your newsletters. Thank you sooooooo much and keep up the good work!!
Annette
---
Thank you for having the imagination and skills to put these patterns on paper. I wish I could do something like this. They are beautiful.
Michele